If you have a rotator cuff tear, you're not alone. It happens to millions of people every year. It's a common cause of shoulder pain. However, the research highlighted the prevalence of rotator cuff tear in the general population is normal, which increased with age. In addition, the Asymptomatic tear (patients with rotator cuff tear but without any pain or symptoms) was twice as common as the symptomatic (patients with rotator cuff tear with painful shoulder). (Read More)

Many studies have shown that conservative treatment (Physical Therapy) is effective in patients with rotator cuff tears (Read more) and even the clinical outcome of re-tear patients after surgery is as good as those with successful repair, (Read More). I believe this is an important message for you if you experience rotator cuff tear.

I have summarized 4 exercises to begin your shoulder rehabilitation right away. These exercises should be done daily at least once a day. However, before trying this routine consult your physical therapist.

Isometric external rotation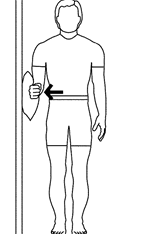 Isometric shoulder external rotation is an exercise that can help strengthen your rotator cuff muscles, specifically your teres minor and your infraspinatus. To perform the exercise, continue standing perpendicular to a wall about six inches from it. The shoulder you are exercising shoulder be closest to the wall.

Bend your elbow 90 degrees, make a fist, and press the back of your hand into the wall as if you were rotating your arm outwards. Use a small towel for a little padding, if needed. Gently press into the wall for about five to seven seconds. Slowly release pressure on the wall. Do not stop the exercise if you feel slightly increased pain.

Repeat the exercise 3 sets of 8 to 10 repetitions with minimized rest between sets.

Pull Through with resistance band
Pull through with resistance band start in standing position with your arm at your side (0 degrees shoulder flexion) and bring your arm into extension as far back as you can raise your arm without flexing forward at your trunk. Once you reached your desired ROM, slowly let the tension of the tubing pull you back to your starting position. Try this exercise for 3 sets of 12 to 15 repetitions.

Dumbbells Scaption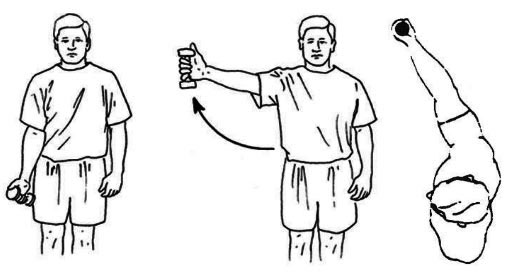 Start in standing with feet shoulder-width apart and knees slightly flexed. Hold dumbbells at the side with an overhand grip. Raise one arm, thumbs up at a 45-degree angle in front of the body until hands reach eye level. Keep shoulder blades retracted and depressed. Do not arch back. Do 10-15 reps for 3 sets with a slow tempo.

Single-arm row with resistance band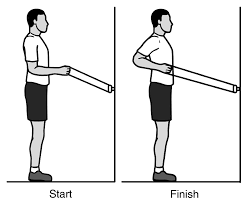 Start with feet hip-width apart holding the resistance band with arms extended at chest level. With knees slightly flexed, row tubing by flexing elbows and retracting and depressing shoulder blades. Try this exercise for 3 sets of 12 to 15 repetitions.

Before trying these exercises make sure to consult your physical therapist. If you have any question feel free to contact us through rehab@dublinsportsinjuryclinic.com 

Our Approach

Dublin Sports Injury Clinic is a physical therapy clinic based in Pearse Street, Dublin 2. we have a holistic approach to our assessment and treatment. The initial assessment helps us to explore the cause of your injury and help you to get pain free shortly and stop any further injuries. We will design a customized training program for you to start with, and we coach you and monitor your progress closely. We will prescribe relative rest or modified activities as required. In addition, the patient's education helps to reduce frustration and encourages compliance. In our clinic, the treatment of rotator cuff will be tailored to every individual.

Next step 

Want to get in touch with our team of our therapist or you are looking for some advice? Simply fill in your details below & we get in touch with you shortly.

Disclaimer: This article is for information only and should not be used for the diagnosis or treatment of medical conditions. You can contact us if you would like to book an appointment or get some advice from our therapist.